All aboard the "Strange Train": Local comedians producing sci-fi web series
"Strange Train," hosted by comedian Richard Reese (center), is set to premiere in early 2014.
…
Richard Reese – along with the help of local comedians, actors, writers, photographers and more — is readying to launch a new web series called "Strange Train," which will blend science fiction and the occult and, of course, will make you laugh. "This isn't going to be an 'IN YOUR FACE' type of comedy," Reese told us, "the comedic elements will be more subtle and will grow in value upon each viewing." Think of it as a Rod Serling-like production intended for the YouTube generation.
You can check out Reese and Co.'s teaser for "Strange Train" below. We also asked Reese a few questions about the new series, set to premiere online in early 2014.
…
Omahype: How'd the project come about?
Richard Reese: Well, the idea started to form about three years ago when I was on a train to Chicago to perform at Zanies Comedy Club. During this trip I was listening to the audio versions of some classic "Twilight Zone" episodes including "Time Enough At Last" and "The Silence."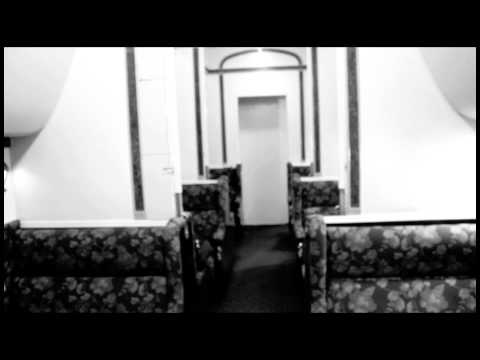 I've always been a fan of "Futurama," "Spaceballs," "Amazon Women on The Moon," "Back to The Future," "Ghostbusters," etc. All of these projects managed to blend science-fiction and comedy together seamlessly. There are also shows out there that inspired me which display supernatural themes alongside more darker forms of comedy such as "Tales from the Crypt" and "Night Gallery" (also hosted/created by Rod Serling).
Omahype: What's the premise of the series?
Richard: One of my favorite shows growing up was a short-lived series called "Nightmare Cafe" starring Robert Englund. That show took place in a cafe where all these supernatural events would occur. While on the train to Chicago I imagined such events taking place on a train. One way to describe the show is "The Naked Gun meets The Outer Limits." There's this train that's moving through time and space; aboard this train I'll introduce/conclude each episode a la Rod Serling (but with WAY LESS smoothness). It's an anthology series so each episode will have new characters and new settings.
Omahype: How many episodes are in the works? And when and where will they premiere?
Richard: As of now there are about five episodes in the works and they'll premiere early next year, hopefully before the spring. This project is being produced as a web series and will be available via YouTube. Other distribution outlets are in the works too, such as Amazon, Hulu and some that I can't mention. Videos will be released every few weeks until the premiere to give a glimpse into the production process and what the show is all about.
Omahype: Who all is working on the project?
Richard: We have an ever expanding list of people who are interested in the project — but the core group that's currently involved includes local photographer Jim Brazda, comedians Nick Allen and Joey Zimmerman, local filmmaker Trevor Lee Wiltgen has also displayed some interest — not to mention a number of talented local actors and writers willing to contribute. Local rock group Screaming for Silence is interested in possibly doing the theme song for the show as well.
Omahype: Anything else you'd like to add?
Richard: If you enjoy comedy, sci-fi, and Rod Serling you should subscribe to "Strange Train" on YouTube and see what becomes of this beast — http://www.youtube.com/strangetrain. "Strange Train" is also on Twitter (@Strange_Train).
And if you would like to be involved somehow you can email us at contact@strangetrain.com.
---
---